KSVDL Celebrates Dr. Brad DeBey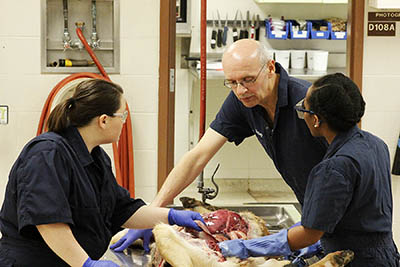 Dr. DeBey (center) oversees a necropsy procedure.
Dr. Brad DeBey, who has spent the past 20 years using his practical knowledge and pathology expertise with the Kansas State Veterinary Diagnostic Laboratory and Department of Diagnostic Medicine and Pathology, retired in June.
A 1983 graduate of the Kansas State University College of Veterinary Medicine, Dr. DeBey has served clientele including practicing veterinarians, animal owners/livestock producers, research scientists and regulatory officials. He's also well known for his ability to handle case material for any species. Dr. DeBey trained approximately 30 anatomic pathology residents and graduate students, and hundreds of students who have participated in the pathology rotation for fourth-year veterinary students. In addition, he has over 50 scientific publications and case reports. Dr. DeBey has been an outstanding anatomic pathologist, all-purpose diagnostician, mentor, colleague, and friend to many. We wish him the very best during his retirement. He will be greatly missed.