Tips for Culture Success
By Rachel Corn, VT, Kansas State Veterinary Diagnostic Laboratory
There are many different samples that can be submitted for culture, including tissue, urine, hair, swabs and more. What is the best sample to send in order to assure the highest quality results? This question is not easily answered due to the wide variety of samples and circumstances surrounding each submission. But by following some simple guidelines, sampling success can be more assured.
1. What sample is appropriate?
First you need to know what sample is appropriate for the desired test, and the lesion. For example, if you want to culture an abscessed area, the best place to sample is the wall of the abscess and not the exudate that is present. Also, urine samples are prone to contamination and can produce results that are difficult to interpret; therefore, urine samples collected via cystocentesis are preferred.
2. Selecting transportation Media
Sample transport media is also an important factor to consider. KSVDL is now offering to clients the ESwab™ transport system, which contains media for aerobic, anaerobic, and fungal cultures as well as media suitable for PCR testing. This system is convenient and suitable for almost all types of samples and testing. Please contact our client care team for more information about ESwab™.
3. Suitable packing and shipping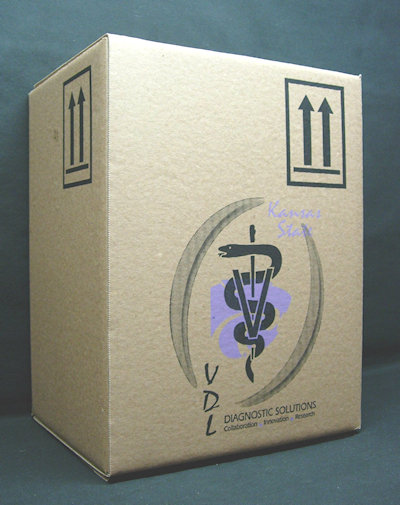 Packaging for shipment is the next important step to assure quality results from a culture submission. All sample types should be placed in a sterile leak-proof container with attention to shipping guidelines for biological specimens. Additionally, all samples should be shipped via overnight delivery. KSVDL offers discounted UPS labels, which include guaranteed overnight delivery (now also including Saturday delivery) for your convenience.
More information on specific collection and shipping guidelines can be found at http://www.ksvdl.org/laboratories/bacteriology-mycology/specific-collection.html.
For more information please contact KSVDL Client Care at clientcare@vet.k-state.edu or 866-512-5650.
Next Article: Bovine Trichomoniasis Sample Handling
Back to Index