March 2019
Titers vs. PCR to Diagnose Leptospirosis Infection in Horses with Recurrent Uveitis (ERU)
By Drs. Laurie Beard and Mike Moore
Leptospirosis is a bacterial disease of world-wide distribution that affects many animal species and humans. In North America, Leptospira interrogansserovar pomona(L. pomona) is the primary pathogen reported to cause leptospirosis in horses.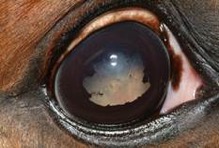 Photo courtesy of Kansas State University Ophthalmology
ETIOLOGY AND PATHOGENESIS
Leptospirosis has been linked to Equine Recurrent Uveitis (ERU) and can also cause abortion and other sporadic health issues. Leptospiral organisms have been found in the aqueous and vitreous fluid collected from ERU horses. However, making an accurate diagnosis of active, antemortem leptospirosis is difficult.
ANTIBODY TESTING: SERUM NEUTRALLIZING ANTIBODY TITERS
Serum antibody titers have traditionally been used to diagnose leptospirosis because culturing the organism can be difficult. The serological test used is the microscopic agglutination test (MAT). However, MAT results should be interpreted with caution as there is widespread exposure of horses to leptospiral organisms. Seventy-five percent of normal horses in the United States were reported seropositive (titer>1:100)1.
A single high titer does not differentiate between exposed and currently infected animals. A definitive diagnosis using MAT requires a fourfold increase from an acute-disease titer to convalescent titer.
Many times, ERU will not manifest itself until several weeks after an active infection has resolved; therefore, acute titer values are many times not available.
ANTIGEN TESTING: POLYMERASE CHAIN REACTION (PCR)
If you are concerned about an active Leptospiral infection, identification of the organism can be completed using PCR. Leptospiral organisms are shed in the urine in many infected animals, and urine can be submitted in these cases for PCR. This test for lepto can also be repeated after treatment to determine the efficacy of your chosen treatment.
For more information please contact KSVDL Client Care at 866-512-5650 or clientcare@vet.k-state.edu.
References: