KSVDL Selects Diagnostic Medicine Interns
In 2013, the Kansas State Veterinary Diagnostic Laboratory (KSVDL) began offering a program designed to provide advanced training in diagnostic medicine to graduate level veterinarians. As an added bonus, participants can tailor the internship to match their individual career goals.
Selected for this year's internship is Dr. Natalia Strandberg, a 2014 graduate of the University of Wisconsin and Dr. Yvonne Wikander, a 1989 graduate of Oregon State University.
Dr. Yvonne Wikander
Drs. Strandberg and Wikander will receive extensive training in clinical pathology methods and interpretation. Additionally, to gain experience concerning laboratory techniques and results interpretation in other diagnostic medicine specialties, they will rotate through each KSVDL laboratory area including anatomic pathology, clinical microbiology, histopathology, molecular diagnostics, next- generation sequencing, rabies, serology and virology.
"Laboratory rotations allow one to see the latest and greatest in the diagnostic world as well as learning about the coolest up-and-coming technologies," Dr. Wikander said. "The after-hours time spent on-call is excellent hands-on experience using sophisticated laboratory equipment and interacting with the clinicians."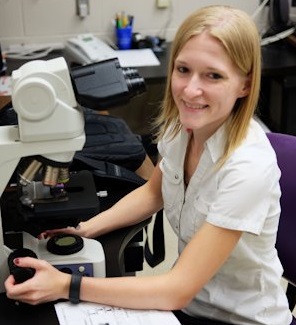 Dr. Natalia Strandberg
Dr. Strandberg echoed similar sentiments about the program.
"The diagnostic medicine internship has been an invaluable experience for preparing me for a clinical pathology residency," she said. "The rotations are a great way to get hands-on experience with the other departments in a diagnostic laboratory and to learn how diagnostic tests are performed, which is helpful in making recommendations for one test over another."
After completion of the specialty rotations, both interns have the option to focus on any diagnostic area outside the clinical pathology specialty as a possible career path during the course of the year, if so desired.
Both daytime training and after-hours emergency on-call duties are required of the interns. Daytime activities include not only training and laboratory rotation, but also the opportunity to participate in a variety of specialty medical rounds and to enroll in classes chosen to match the intern's career interests, offered through Kansas State University. Emergency after-hours duties include interacting with clinicians and completing clinical pathology testing for cases that are hospitalized within the Veterinary Health Center at Kansas State University.
The program is open to applicants who have a Doctorate of Veterinary Medicine and a strong interest in diagnostic medicine. If you would like more information about this program, please contact Dr. Gregg Hanzlicek at 785-532-4853 or gahanz@vet.k-state.edu or Dr. Lisa Pohlman at 785-532-4882 or lpohlman@vet.k-state.edu.
Significance of Surgical Margins For Low Grade Mast Cell Tumors...New Insights
Return to Index