February 2019
Tips for Submitting Samples to KSVDL
By Samantha Pineo, RVT
When preparing your sample for shipment, we recommend using one of the many helpful tools we offer throughout our website.
To locate and print out the appropriate submission form, click here: http://www.ksvdl.org/submission-forms.html.
If you have any questions about pricing, turnaround time or are even unsure of what sample is ideal for the testing you require, check out our "tests and fees" link and search the catalog, or click here: https://vetview2.vet.k-state.edu/LabPortal/catalog/list.
Once you've located your test, the purple "more" button will tell you everything you need to know including how to ship and package your sample, estimated turnaround times, etc.
Packing and Shipping Tips
When it's time to package your sample, a simple cardboard box with a frozen gel pack is sufficient for small samples like blood and serum. It is recommended to wrap tubes in bubble wrap or some kind of padding to make sure they don't break during shipment. We also recommend putting samples and submission forms in their own separate zip lock bags or spill-proof containers in the event of a tube breaking, a spill or ice pack melting.
If you have a histopathology sample to send in, please use a leak-proof plastic container that is contained in its own bag. This bag should include some absorbent material. Frequently, the movement of packages in transit causes lids to slightly loosen. If these aren't packaged correctly, it could potentially expose everyone that handles the package (including the package-courier) to formalin, which is a potential carcinogen, and other biological hazards. (See photo)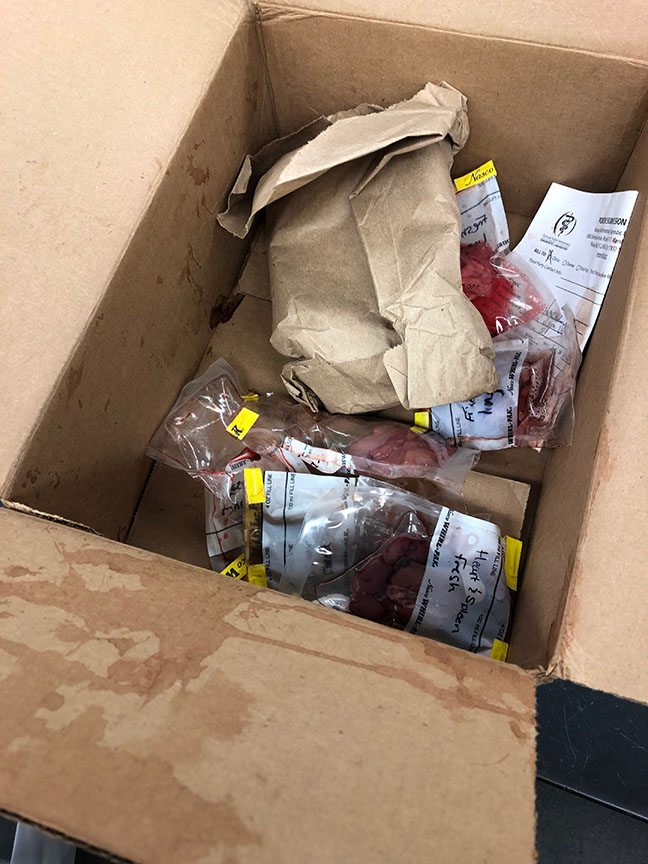 Frequently, the movement of packages in transit causes lids to slightly loosen.
Shipping supplies
We offer a service in which we ship you a kit of free formalin jars with all the required packing material, submission forms, and even free UPS packs to make this as convenient for you as possible.
Shipping prices
If you have a submission other than a histopathology sample, we also offer discounted UPS labels for our clients within the 48 contiguous states. To take advantage of this, just click here: https://www.vet.k-state.edu/asp/Forms/ksvdl/Ups-Label.
At KSVDL we strive to process your samples as quickly and accurately as we can to get you your results as soon as possible. If you ever have any questions, please feel free to call our amazing Client Care team at 866-512-5650 or email at clientcare@k-state.edu.
Samantha Pineo is a Registered Veterinary Technician at the Kansas State Veterinary Diagnostic Laboratory.
Next: Gastrointestinal Stasis in the Rabbit
Return to Index