Check Out the KSVDL Disease Trends Webpage
http://www.ksvdl.org/disease-trends.htm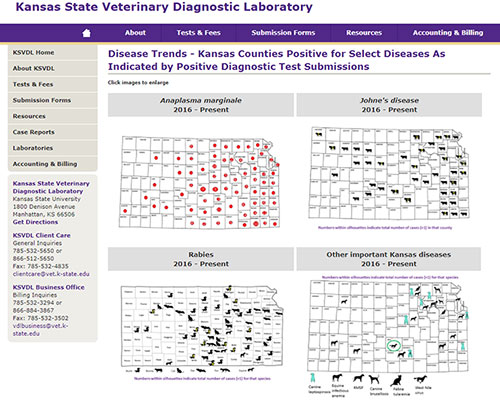 Timely Videos on the KSVDL YouTube™ Channel!
Fall Test Offerings
Bovine Respiratory PCR panel
The bacterial and viral respiratory PCR panels offered by KSVDL can be very valuable tools for helping solve bovine respiratory disease outbreaks.
The bacterial panel detects M. haemolytica, P. multocida, H. somni, M. bovis, and B. trehalosi. The viral panel detects, BVDV, BRSV, BCoV, IBR, and M. bovis.
The test can be completed on either tissue (lymph node or lung) or nasal/pharyngeal swabs.
Watch KSVDL's short video on how to take a deep pharyngeal swab from live cattle:
https://www.youtube.com/watch?v=WB3luk1nQjY
For convenience, a single sample can be utilized for both the viral and bacterial PCR panels. The swab must be either a sterile swab moistened with saline submitted in a red-top tube or a swab submitted in viral transport media.
A "gel" bacterial swab is not acceptable.
For more information visit our website at www.ksvdl.org or contact KSVDL Client Care at 866-512-5650 or clientcare@vet.k-state.edu.