Pigeon Fever
Dr. Ram Raghavan, Dr. Elizabeth Davis, Dr. Laurie Beard, Dr. Gregg Hanzlicek
Pigeon fever or dryland distemper is an infectious disease affecting horses primarily in the arid western regions of the US. However, a significant outbreak occurred in the Midwest in 2012, particularly among horses residing in Kansas. During this outbreak several horses were seen at the Kansas State Veterinary Health Center (VHC) and samples diagnosed from infected horses all through the state at the Kansas Veterinary Diagnostic Laboratory (KSVDL). Horses of all ages, sex and breed were equally affected during this outbreak.
A retrospective analysis of cases demonstrated that a mild winter followed by warm spring and drought conditions during summer of 2012 contributed to this outbreak. Unusually dry top-soil where the causative bacteria, Corynebacterium pseudotuberculosis, thrive could have become airborne leading to infections in horses. Likely other contributing factors included biting flies during this warm, dry season that transmit the bacteria from infected horses to other susceptible individuals.
Figure 1.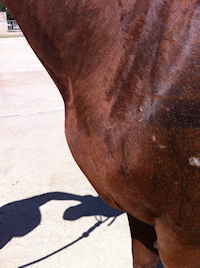 Figure 2.
There are three clinical presentations of C. pseudotuberculosis, which include the pigeon fever form (external abscess commonly in the pectoral region), ulcerative lymphangitis and internal infections. Figures 1 and 2.
Treatment of the pigeon breast form includes drainage of the abscess and prognosis is good. Ulcerative lymphangitis and internal infections are much less common than the pigeon breast form, but much more difficult to treat and often with a poor prognosis.
This summer and fall and in the coming years we are attempting to closely observe how this disease further establishes itself in the state and the region. In a partnership, KSVDL and VHC have instituted a surveillance program for this purpose. Our surveillance efforts in Kansas are aimed towards achieving rapid diagnostics, prevention, and improved treatment strategies.
We request your cooperation in this effort by sharing with us when you identify a suspect case at your practice by logging in at https://www.vet.k-state.edu/asp/forms/ksvdl/Pigeon-Fever.
We also welcome your samples for testing at KSVDL. Costs and sample handling details are provided on our website at http://www.ksvdl.org.
For further information please call Drs. Elizabeth Davis or Laurie Beard at the Veterinary Health Center at Kansas State University at 785-532-5700, or Dr. Gregg Hanzlicek at 785-532-4853 for diagnostics-related questions.