June 2018
Exotic Tick Found in the U.S.
By Dr. Ram Raghavan

Recently, a tick species, the East Asian or Longhorned tick, that has never previously established a population in the US has been found in four states: New Jersey, Virginia, West Virginia and Arkansas. It has not been found in Kansas or anywhere in the Central Midwest. In its native range, these ticks are known to transmit theileriosis to cattle, and severe fever thrombocytopenia syndrome (SFTSV) in humans. Laboratory studies have evaluated the competency of this tick for various pathogens including Lyme spirochetes, spotted fever group rickettsiae, Ehrlichia chaffeensis and Anaplasma bovis; however, the results are mixed. At this time it is unknown if this tick transmits other animal or human diseases under field conditions in its native range. If they are found to be associated with other diseases, another disease vector will need to be managed, and the potential negative impact on animal and human health will certainly be present. The other ticks listed on this page are commonly found in Kansas.
If you observe a tick that looks like the picture below, please contact the Kansas State Veterinary Diagnostic Laboratory Client Care at clientcare@vet.k-state.edu or 866-512-5650 for advice.
East Asian or Longhorned tick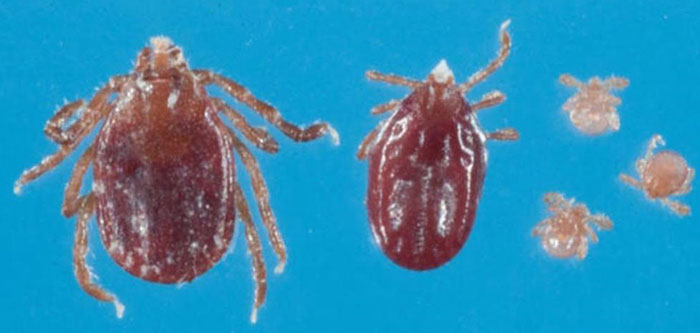 © WRBCtv, 2018
Distribution: The East Asian or longhorned tick is not known to be present in Kansas as of June 2018. This tick was first identified in North America in a New Jersey sheep farm in 2017, and they have been since confirmed to be present in Virginia, W. Virginia and Arkansas. Due to high volumes of livestock trade and transport across the country, this tick could turn up in any part of the country, including Kansas in the near-future. However, their ability to survive local conditions will highly vary.
Identifying characteristics: The East Asian or longhorned ticks are similar in size and appearance to the other common ticks in Kansas. However, they lack some of the bodily colorations that are common to the ticks in this area. The adults and nymphs are reddish, reddish-brown in color and the larvae are small, pale yellow to red in color.
Activity time: Likely during the normal tick season, April through August.
---
For information on other tick species, see our new page: Identifying Ticks