RFFIT Frequently Asked Questions
Which test do I choose?
Animal or Human RFFIT Testing
Screen or endpoint RFFIT selection is based on knowledge needed and price point http://www.ksvdl.org/rabies-laboratory/rffit-test/rffit-submission-forms.html (price on Credit Card form)
Endpoint- Quantitative results. Provides an exact titer between the reportable range of 0.1 to 15.0 IU/mL
Screen- Qualitative results. Results are reported as either LESS THAN 0.1 IU/mL,
>/= 0.1 IU/mL or >/= 0.5 IU/mL.
If the pet is travelling to a Rabies Free Country or Island, can I submit the RFFIT?
No, The FAVN test must be submitted for pet travel.
How much does the RFFIT testing cost?
Our requirements, policies and costs are updated on our website at Tests and Fees
Results:
When are the results ready?
RFFIT samples are tested in the order that they are received. The turnaround time is approximately 3-4 weeks. In some cases, for technical reasons, samples must be retested and the turnaround time will be longer. Exceptions can be made to expedite the testing. Please email rabies@vet.k-state.edu to explain the need as these requests are subject to approval. Mention the expedite request on the RFFIT form.
My unvaccinated/overdue pet was bitten by a known/suspected rabid animal. Will a titer test tell me whether my pet has rabies?
The absence of a titer in an unvaccinated animal does not exclude a diagnosis of rabies, since some rabid animals may not have detectable levels of rabies antibodies. Also, the presence of a titer in a vaccinated animal may not ensure protection from an exposure to rabies. Keep your pet current on its rabies vaccination and contact your veterinarian and local or state health department if you think your pet may have been exposed to rabies. Prospective Serological Monitoring may be advised depending on local laws, email rabies@vet.k-state.edu for further information.
My pet's rabies titer was reported as less than 0.50 IU/mL. What should I do now?
See ' What does the level of Rabies virus neutralizing antibodies (RVNA) mean?' at http://www.ksvdl.org/rabies-laboratory/rffit-test/index.html Two rabies vaccinations before testing provides a higher likelihood of obtaining a rabies titer above 0.5 IU/mL. Consult your veterinarian about the possibility of an additional rabies vaccination and collecting another blood sample. Waiting 10-21 days after re-vaccination to take a blood sample allows the pet to develop a peak antibody response.
How long is my pet's RFFIT test result valid?
If you are presenting the results of the RFFIT testing to a local official, it is up to that local official as to when the pet must be tested again.
I prefer to not rabies vaccinate my pet, what can I do?
Check with your local official to determine if the results of a RFFIT test will satisfy their licensing requirements.
How and where are the RFFIT results sent?
The results are sent back to the submitting clinic or reference lab via email or fax. If you are a clinic that used a reference lab, please check with their sendouts department.
How do I interpret RFFIT results?
For animals – there is no proven level of protection for an animal. Regulatory authorities often require a minimum of a 0.50 IU/mL titer in conjunction with waiting periods for export (to rabies-free areas) purposes.
For Humans at risk of rabies exposure (see table below) – there are two different recommendations, one from ACIP and one from WHO. The ACIP level of "complete neutralization at a serum dilution of 1:5" corresponds to 0.1 IU/mL. Therefore, if the reported result is >/= 0.1 IU/mL or >/= 0.5 IU/mL a rabies booster is not recommend per the ACIP. The lowest antibody level that can be accurately and precisely measured by the RFFIT in our laboratory is 0.1 IU/mL; below this level, there is uncertainty as to the specificity of the result.
The WHO level of 0.5 IU/mL is more conservative for guiding human vaccination decisions. Therefore, if the reported result is >/=0.5 IU/mL a rabies booster is not recommended per WHO.
For further information, see "Level of rabies protection".
Why should I consider getting a booster vaccination?
Anticipated risk of exposure (i.e., routinely handling sick animals in rabies enzootic areas), length of time until the next antibody measurement, previous rabies antibody levels and the probability of decay to low or undetectable levels, individual health status (immunocompromised condition or a history of poor vaccine response), timely access to vaccine and administration should a potential exposure occur are factors to take into consideration for booster decisions. See ACIP and WHO guidelines for further information.
ACIP Recommendations - https://www.cdc.gov/rabies/resources/acip_recommendations.html
WHO Recommendations - http://www.who.int/rabies/human/sympt_pre_exp/en/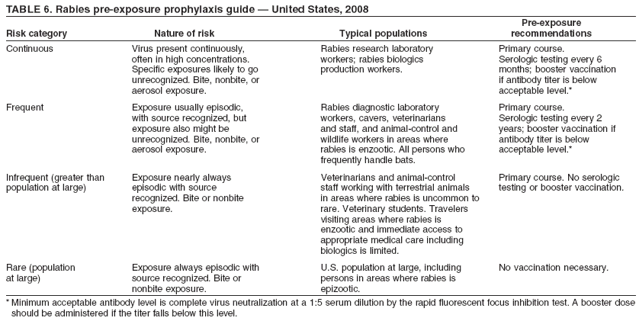 I need to make a name change on the RFFIT results. What should I do?
Email rabies@vet.k-state.edu and request the change.
Specimen Submission
http://www.ksvdl.org/rabies-laboratory/rffit-test/rffit-submission-forms.html
Is a fasted sample required?
A fasted sample is not needed unless the sample is grossly lipemic. To avoid submitting a lipemic sample, fast the animal/human 8 -12 hours prior to having the serum drawn.
Can I draw the sample in a serum separator tube?
Yes, the sample can be collected and sent in a serum separator tube (gel separated, red-top tube, tiger-top tube). However, if a serum separator tube is used, it is best to pour off the serum into a non-additive 3.0 to 5.0 mL tube and send only the serum part of the sample. Only serum and CSF are approved for testing.
How much serum do I need?
We recommend 1.0 to 2.0 mLs of serum per submission.
My sample is grossly hemolyzed (reddish) or lipemic (fatty). Will it affect the testing?
A simple test is to hold the serum tube in front of a printed page – if you can see the print through the sample, then it is okay to test. If the sample is toxic to our cells due to hemolysis, lipemia, or contamination, a 'toxic' result will be sent out, and testing fees may apply. To reduce the chance of hemolysis, pour off serum from the clot. To avoid lipemia, a fasting sample (8-12 hours) is recommended. If the sufficient serum sample can be pipetted from the submitted tube, we will test it.
How long can serum be stored?
We recommend serum storage be no more than 7-10 days in refrigeration before shipment. For longer storage you can freeze the serum at -20 °C.
Specimen Shipping:
http://www.ksvdl.org/rabies-laboratory/rffit-test/rffit-submission-forms.html
How much should it cost me to ship my sample?
For discounted UPS labels, please visit: https://www.vet.k-state.edu/asp/Forms/ksvdl/Ups-Label - your account number will be needed. It can be found on a previous invoice, or call the lab for inquiries. If you haven't submitted to the Rabies Lab before, then you will need to complete the Client Registration Form at this link: http://www.ksvdl.org/laboratories/default-sample-submission.html
Do I need to attach any kind of bio-hazard label on my shipping package?
Normally, no, because the RFFIT sample is considered an "exempt animal specimen", If in doubt, please check the shipping company prior to sending your sample. For Human testing, check with your shipping company. Many require a UN3373 label on the container.
For International Shipments, Please fill out: Customs Declaration for Animal Serum Export to the US available at this link: http://www.ksvdl.org/rabies-laboratory/rffit-test/rffit-submission-forms.html A copy of the RFFIT FORM and the Customs documents should be placed on the outside of the package for custom agents to keep. Place the original RFFIT FORM and Customs Documents in the box.
What kind of ice should I use to send in my samples?
A pre-frozen gel pack or cold pack for overnight delivery should be sufficient.
How do I pack my sample?
In a small box with a small frozen gel pack. The serum tube should be in its own plastic bag and the submission form in a separate plastic bag. Put some packing peanuts, bubble wrap, or newspaper for cushioning.
Does the laboratory accept weekend delivery?
We accept deliveries Monday-Friday 8am-5pm [CST], excluding State Holidays. Samples for Saturday Delivery will be received, but not processed until the following business day. Create a UPS shipping label at this link: https://www.vet.k-state.edu/asp/Forms/ksvdl/Ups-Label
Can the pet owner submit the sample for RFFIT testing?
The shipment can be prepared by the owner, clinic, or reference laboratory. However, the results will be sent to the submitting clinic and they are responsible for the sample draw, labeling, and associated services
Will I receive a confirmation when the Rabies Laboratory receives my samples?
We do not send sample receipt confirmation. Please track your package to confirm we have received your sample. Samples will be processed by the end of the next business day.
Can you tell me the status of my samples?
Please allow 3 to 4 weeks for RFFIT testing. Otherwise email rabies@vet.k-state.edu for a status update.
Should I use a courier service to send my sample?
You can create a UPS shipping label at this link: https://www.vet.k-state.edu/asp/Forms/ksvdl/Ups-Label. You can also use your own shipping account or go to your local courier service and pay for shipping. We will not accept any packages with outstanding charges.
How much does the RFFIT testing cost? Our requirements, policies and costs are updated on our website here: Tests and Fees
I sent in my samples but I have not been billed yet for the RFFIT test. Is something wrong?
For clinics in good standing, invoices are sent on the first business day of the month following finalization of results. For billing inquiries, please contact the Business Office at 785-532-3294 or vdlbusiness@vet.k-state.edu