March 2018
Neonatal Diarrhea Submission Results, 2017
By Dr. Gregg Hanzlicek
The graph below is a summary of 296 fecal or tissue submissions to the KSVDL requesting the neonatal diarrhea PCR panel.
Twenty four percent of all submissions were found to contain only Rotavirus. Additionally, 39.8% of the submissions contained Rotavirus in combination with one or more other pathogens. Twenty six percent of the samples contained only Cryptosporidium. Rotavirus in combination with Crypto was found in about 15% of the samples, and the combination of Rotavirus and Coronavirus was found in about 10% of the submissions. Other pathogen combinations were found much less frequently, but many of the combinations contained one more of the zoonotic pathogens.
Although the treatment for neonatal scours is similar regardless of the associated pathogen, knowing the predominate organisms involved in herd outbreaks can be important for educating the client about zoonotic potentials and when planning prevention programs for the next calving season.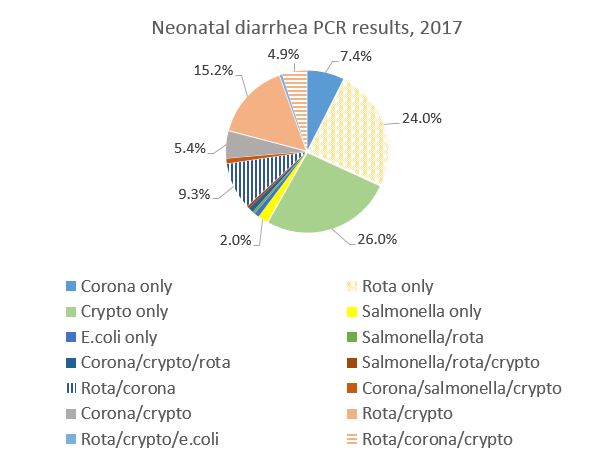 For more information contact KSVDL Client Care at 866-512-5650 or clientcare@vet.k-state.edu.
Register Now For The 80th Annual Conference For Veterinarians!!
Return to Index