How to Prevent Freezing Artifact in Fixed Tissue Samples
By Rachel Corn, VT
Imagine you have a client coming in to have a mass removed from their pet. They would like the mass submitted for histopathology and of course it is freezing cold outside. So how do you keep the mass from freezing during shipment to the lab? The answer is relatively simple: lower the freezing point of the formalin it will be shipped in. In this article we will discuss why freezing is undesirable, what type and how much alcohol to use, and highlight any negative side effects of adding alcohol.
What happens when tissue samples are frozen? When tissue is frozen ice crystals are formed within the tissue. Even if the tissue is placed in formalin, ice crystal gaps or clefts will remain. This is what is referred to as "freeze artifact". The pictures below are of a mouse spleen with routine H&E staining. On the left is a picture of tissue with no freeze artifact while on the right is a slide containing tissue exhibiting freeze artifact.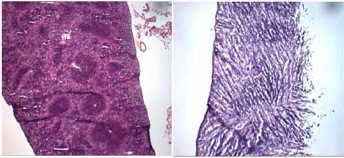 To prevent freeze artifact you need to add a small amount of alcohol to your formalin. There are several alcohols which can be used, including isopropyl, methanol, and ethanol. The proper mixture to prevent freezing is 1 part alcohol to 9 parts formalin. If you are using the free biopsy kits that Kansas State Veterinary Diagnostic Laboratory provides, then you need to add approximately 7 mL of alcohol to the provided formalin.
The only negative side effect to using alcohol on tissue is it can dry out very small samples. This can be prevented by not adding more than the recommended amount of alcohol, as described above.
Any questions can be sent to KSVDL Client Care at clientcare@vet.k-state.edu or 866-512-5650.
Rachel Corn received a bachelor's degree in Animal Science and Industry with an Equine Science Certificate from Kansas State University. She then completed an associate degree in Veterinary Technology from Brown Mackie-Salina. She is a Client Care Technician at the Kansas State Veterinary Diagnostic Laboratory.
Next Article: Bovine Trich Sample Handling Reminder
Back to Index